BIFI International Conference 2022
THE SCIENCE OF COVID-19: FROM MOLECULAR DRUG DESIGN TO DATA DRIVEN EPIDEMIOLOGICAL MODELS
June 7-9, 2022
IMPORTANT DATES
Abstract submission deadline: May 13, 2022
Notification to authors: No later than May 20, 2022
Registration Deadline: May 30, 2022
Conference: June 7-9, 2022
THEME
The COVID-19 pandemic has become the worst pandemic in at least a century. Its impact on everyday life, whether in terms of health or socioeconomic effects, has been devastating, and given its persistence, perhaps many of its consequences remain to be seen. At the same time, the pandemic has induced unprecedented international and multidisciplinary scientific efforts aimed at understanding all aspects of SARS-CoV-2 transmission at different scales and at finding solutions to end the pandemic.
The Institute for Biocomputation and Physics of Complex Systems (BIFI), as a center that performs research in biological and complex systems, is particularly concerned with and involved in, COVID-19 research. It seems then timely for us to host the International Conference of 2022 around the COVID-19 theme. The Conference aims at providing a forum to discuss the latest advances and insights in the study of this pandemic. All topics that fit within the science of COVID-19 from a complexity, biological or interdisciplinary point of view are welcome.
MAIN TRACKS:
Transmission mechanisms

Covid-19 socioeconomic impact

Mobility patterns and pandemic

Covid-19 modeling

Drug development

Covid-19 and financial markets

Cellular and molecular biology
CALL FOR ABSTRACTS
We invite you to submit an abstract including one (mandatory) descriptive figure and caption via our EasyChair submission link:
https://easychair.org/conferences/?conf=bifi22
Here you can find a Word template for submitting your contribution. In case you use LaTeX, please follow the same guidelines specified in the previous document.
Please note that the limit for your abstract is one page without the mandatory figure. Abstracts that do not meet these formatting requirements will be rejected.
Submissions are required to include at least the following information: 
Title of the contribution

Author(s) and affiliation(s)

e-mail address(es)

Name of the speaker.
Submissions will be evaluated and selected by a Program Committee. Once the selection process is complete, the authors of the accepted abstracts will be notified by e-mail.
GUIDELINES TO USE EASYCHAIR
Please follow strictly these guidelines for submitting your work through EasyChair, as it is not that "Easy". 
Fill the authors information. Note that it is necessary that at least one corresponding author has an EasyChair account.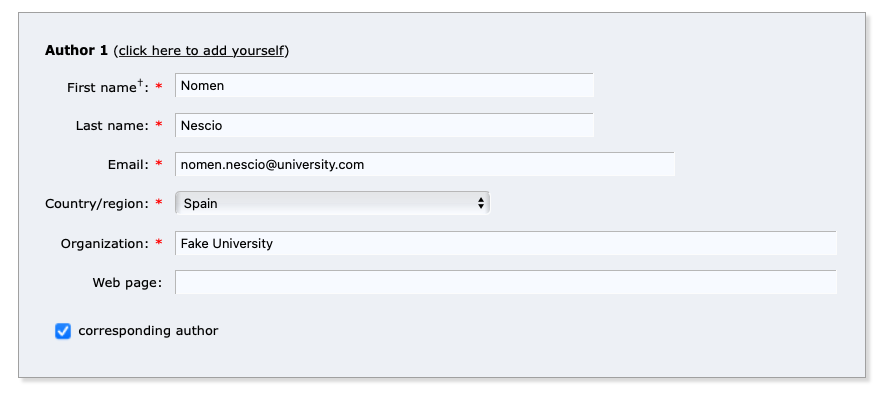 Fill the title of your contribution in the Title box. Please do not include your abstract in this section, just type a dot "." in the Abstract field.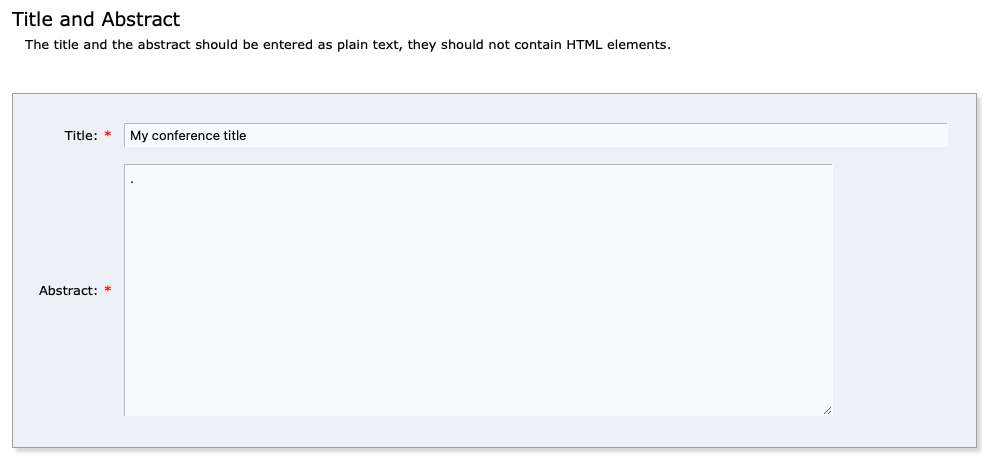 Include the keywords that represent your work. EasyChair only allows to introduce one word per line, thereby keywords should be written as shown in the following image.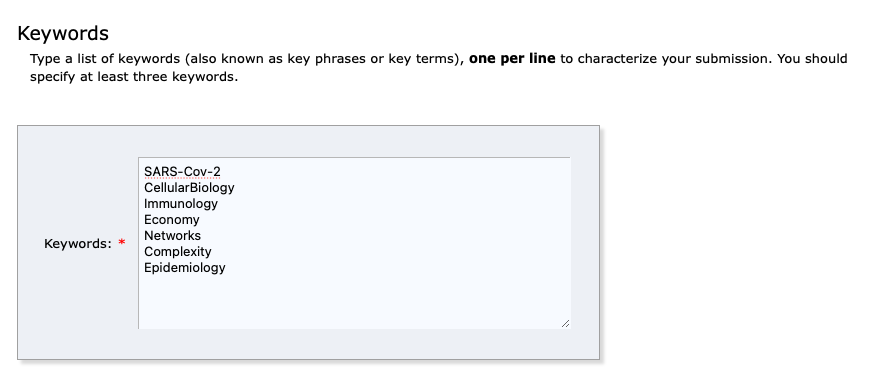 Attach your Abstract file (either .docx or .pdf) in the Files section. Please, do not upload full papers, as they will be immediately rejected. After uploading the file, review your submission and click SUBMIT.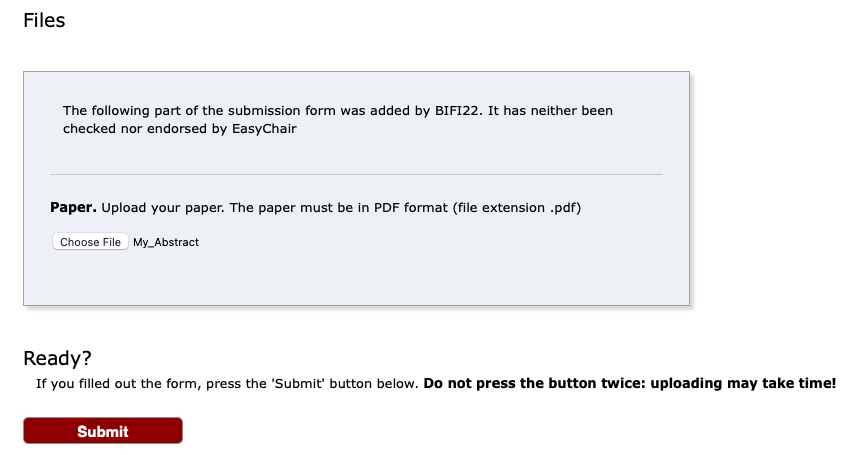 Congratulations! You have submitted your Abstract. You will received an automatic confirmation message in your mailbox. Now you just need to wait until the notification date.